honeydews
Hello, I'm Andrea Castillo and this is Seasonal, a newsletter that connects you to the Bay Area food system, one fruit and vegetable at a time. Seasonal comes out twice per month, and each post highlights the most interesting aspects of one seasonal fruit or vegetable grown and harvested around the Bay Area. Find me on Instagram at @seasonalbayarea or e-mail me at seasonal@substack.com to share your feedback and suggestions, I'd love to hear from you. If you'd like to unsubscribe, click the gray unsubscribe link at the bottom of this post.

This week we nerd out on honeydew melons (available June-October).
Has anyone ever said something simple that, for whatever reason, reaches you in an unexpected way and changes you? In 2017, that's exactly what happened. My husband's cousin Jennie came out to visit from New Hampshire for a few days and we were having a great conversation and catching up over a home-cooked meal. Jennie has gifted hands: she is a master potter—we have several of the bowls and mugs she creates in her barn studio—and a talented farmer with a serious green thumb. Over dinner, she shared with us how exciting it was to grow her own food and share it with others. Farming was fun and rewarding… but it was also hard and required a daily commitment. When we asked her how we could best support farmers, she responded with a powerful three-word answer: "Get a CSA." 
direct to farmer and consumer 
Community Supported Agriculture, or CSA for short, is a way to directly support farms by buying fresh, seasonal produce from them. Some CSA boxes in the Bay Area like Farm Fresh to You allow for customization while others like Riverdog Farm include set items determined by daily yields, crop quality, and weather (my husband and I subscribe to both). In return, when farmers receive payment upfront, they can optimize their cash flow and add some degree of predictability to their operations. As a member, one of my favorite benefits of a CSA subscription is discovery—which is how I wound up nerding out on honeydew melons. 
Our Riverdog CSA boxes have been a little heavier lately because it's melon season. We've been getting at least one every week recently and I was initially a little bummed when a honeydew arrived. Don't judge, but I've always found honeydews too sweet—after all, they are the sweetest of all melons—and, to be honest, the flavor falls flat and I find it boring. But, as that honeydew sat on the counter along with the Sharlyn melon that came in the box, they filled the kitchen with a sweet, floral aroma. Yesss! There was hope at least one of these melons would not be boring at all. And I pinned that hope on the Sharlyn. But that's not how it turned out.
orange you glad you tried it?
The melon in the CSA box that week was no ordinary honeydew—it wasn't even green inside. It was…orange? Yes! Orange. Wait, aren't orange melons cantaloupes? Did I read the CSA box list wrong? Not at all. This extraordinary melon was indeed an orange honeydew and it was the best melon I've had all year. The delicate, pale tangerine-tinted flesh was an unexpected sight. The exciting flavor a welcome surprise. How on earth was a honeydew melon tasting so good? And why hadn't I enjoyed one of these orange beauties before? There was nothing flat or boring about this melon and it felt like discovering the honeydew world for the first time. 
Orange honeydews are not as well-known as their green-fleshed siblings. In the Riverdog Farm weekly newsletter sent a day or two before pick up, the writer explained that their nephew, who is doing his distance learning at the farm, was blown away by his first bite of orange honeydew and asked what makes it taste so good. The specific hot day and cool night microclimate northwest of Sacramento along the Cache Creek in Guinda, where Riverdog Farm operates, certainly helps. And though they're not exactly sure what's behind the heavenly taste of these orange honeydews, they explain that the "delicate combination of seed breeding, years of seed trials, growing conditions, and heat [sweetens] the melons to near perfection." 
the art of harvest
Trini and Tim, the owners of Riverdog Farm, and their team also deserve credit: harvesting honeydews at the right time matters. Harvesting certain types of melon before they ripen on the vine is a common commercial practice because it extends the shelf-life of melons and improves ease of transport, but sacrifices flavor and sweetness. Vine-ripened melons, like tomatoes, reach peak sweetness not just with heat, but also while they're still attached to the vine. And, Trini shared with me it is best not to irrigate one to two weeks before harvest time to enhance sugar levels (if you read the previous Seasonal on tomatoes, this technique may sound familiar!). But not all melons ripen the same way and the Sharlyn and the orange honeydew in our CSA box provide an example of these differences. 
The Sharlyn is a muskmelon variety—as is the popular American cantaloupe—that originated in the 1400s in Italy and Algeria. Its exterior netted skin, reminiscent of mud cracking in the intense heat from the sun melons love to grow under, morphs from green to gold when ripe. In addition to skin color, it's easy for farmers or gardeners to tell when a Sharlyn melon is ripe because it will easily slip off the vine when it is ready.
Orange honeydews are a bit trickier and harvesters rely on more subtle signals to know when to pick them. Unlike Sharlyns, they do not easily detach from the vine when ripe. Instead, when the orange honeydew is fully ripe, the end opposite the stem softens, the stem dries out, and its smooth skin turns white or pale yellow. Melons with hard, smooth skin like the orange honeydew also become waxy and almost sticky when they're ripe, emitting a faint, but sweet fragrance. Picking a ripe orange honeydew is an art, so how well a farmer knows specific melon varieties impacts their taste. Based on the great taste alone, I bet Trini and her team at Riverdog have deep relationships with the orange honeydews they grow!
better together
The orange honeydew also draws some of its great taste from its hybrid origins. These delicious orange-fleshed honeydews are the results of green honeydews and orange muskmelons joining forces. This union worked out spectacularly, mishmashing the best melon qualities in one. On the one hand, the orange honeydew benefits from one of the best green honeydew traits: sugar.
Honeydews have the ability to store more sugar than other melons because they take longer to ripen. It may take an orange muskmelon 85 days to ripen, but a honeydew's number is more like 115 days, a full month of additional ripening. While the honeydew basks under the sun for an extra month, taking its sweet time to ripen, it bumps up its sugar content to 12% of its weight. By contrast, a muskmelon clocks in at around 10% sugar content by weight when ripe. But too much of one thing is not necessarily a good thing, especially when you lack a sweet tooth like me. For my taste preference, there isn't enough complexity in a green honeydew to balance out its sweetness. 
And this is the brilliance of the orange honeydew. Its other half, the muskmelon, brings a great trait to the table: aroma. These melon varieties have more active enzymes than honeydews, giving them a leg up when it comes to aroma. The active enzymes in muskmelons act like a matchmaker between acids and alcohols found in the fruit. When the acids and alcohol in melons unite as one, they create esters, which are major contributors to the melon's aroma. Green honeydews have low or undetectable levels of many of these esters and other aroma compounds, but orange honeydews are full of them. 
Orange honeydews also seem to have the right balance of esters and aroma compounds that contribute to their amazing taste. The unique sugar and ester combination in orange honeydew seems to easily win people over. It worked well on me and also on taste groups: in a Colorado State University experiment, the orange honeydew was by far the obvious favorite of all 13 melons tasted, winning with 42% of the vote and leaving the second favorite melon, the Sugar Nut, in the dust with only 27% of the vote.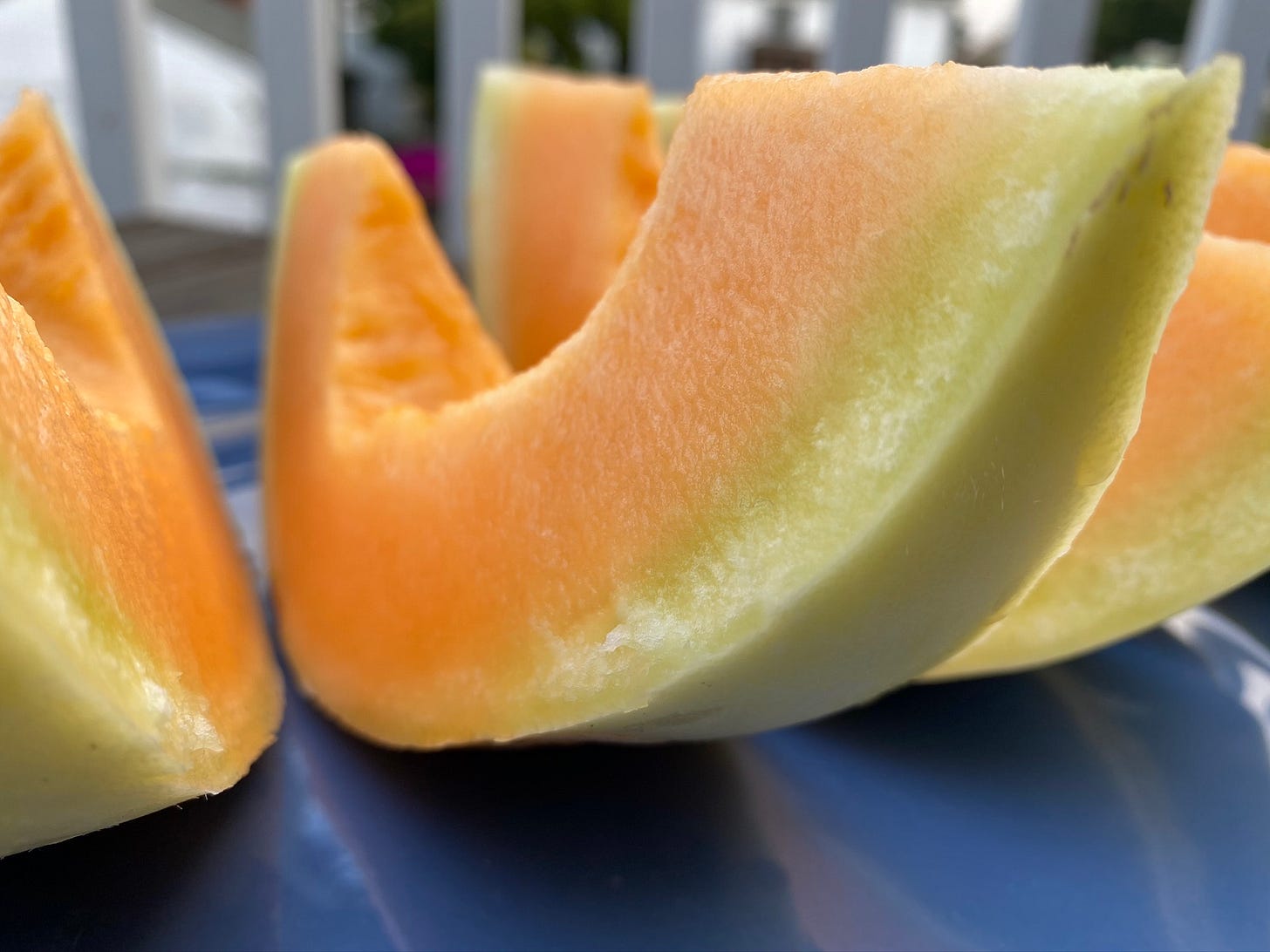 An unexpected orange surprise, grown by Riverdog Farms.
lighten up your health
The hybrid vigor that elevates orange honeydews flavor also leaves behind a healthy bonus for us. The flesh in an orange honeydew gets its beautiful color from higher concentrations of the orange antioxidant beta-carotene. By absorbing potentially harmful light wavelengths, beta-carotene acts as a bodyguard for chlorophyll, a key molecule in photosynthesis: the process plants use to convert light into chemical energy so they can grow. The red and yellow light wavelengths beta-carotene does not absorb are what we end up seeing in ripe orange fruits and vegetables. When we eat an orange honeydew, we ingest its beta-carotenes, which our intestines then convert into vitamin A. Vitamin A has many health benefits, and one of the major ones is that it helps our eyes detect light, allowing us to see. 
If you're ready to add a little sprinkle of beta-carotene and sweetness to your day, then it's time to dig into that juicy, delicious orange honeydew. But first, a public service announcement. Before cutting into your melon, make sure you wash it well. Even though you do not eat the rind, bacteria like Salmonella that sometimes lives on the skin can make it into the flesh when you cut into it. The smooth skin of the orange honeydew should be easy to clean, but if you eat one of the netted melons like a Sharlyn or cantaloupe, spend a little extra time scrubbing it with a brush under running water—there are more nooks and crannies for the bacteria to hide in. When you finally cut into it and realize you won't eat it all at once, keep the other half whole, cover it, and put it in the fridge. It will last longer whole than cut up.
orange honeydew four ways
The first time I ate orange honeydew, I had it fresh for dessert. It's excellent by itself. To beat the heat and add other flavors, I've been tossing cut up melons with minced fresh ginger, chopped mint leaves, and half a lime. I eat a decent chunk of melon this way and recommend it as a refreshing, light lunch. Don't feel like chewing much and have a couple of berries handy? You can still beat the heat with Jenny McGruther's chilled orange honeydew soup. If you want to get a little more elaborate, Daria Souvorova from Chez Nous recommends draping smoked salmon over sliced orange honeydew, drizzling it with lavender-infused olive oil, and pairing it with a baguette and a side of eggplant Caprese. It's an excellent dinner, especially enjoyed outside during a hot summer night. 
take nothing for granted
Some of the simple joys in life, such as enjoying a meal outdoors have not been much of an option lately here in California. Even while safely socially distancing at home, the smoke over the past couple of weeks has forced many who can afford it to retreat indoors. And for those whose livelihood depends on working the land, it's been harrowing. Warning signs about the wildfires showed up early on. I first learned about the strange rain and lightning around local farms in the Riverdog CSA newsletter (the one sent along with the orange honeydew debut) and then saw posts from other farmers on social media about distant fires over ridgelines. By the time a couple of the Santa Cruz County vendors missed their usual farmers market visits, the fires had grown quickly and already taken a big toll.
samāsana
In spite of the painful losses farms around the Bay Area suffered, local communities jumped to action right away. At the very beginning of the wildfires, World Central Kitchen set up their operations in Vacaville to cook and deliver meals to first responders and people who had to evacuate. Bay Area food trucks like Al Pastor Papi and La Santa Torta gave away meals to farmworkers and La Santa Torta set aside a portion of their sales for two weeks to donate to Bay Area immigrant community members affected by the fires who lack access to federal aid. Friends, family, and employees also set up several fundraising sites, bringing together donors from near and far. 
Discovering the delicious results that honeydews and muskmelons yield when they come together is a great benefit of a CSA box. But it's impossible to enjoy the fruits of farmers' labor without thinking about the wildfires consuming California right now. Every time I unpack our fruit and vegetable boxes, I also think back to the dinner conversation with Jennie and feel gratitude for the CSA seed she planted. For her, a CSA is all about connecting with her members and it's the only way she sells her produce. Even though Jennie is a solo farmer and does everything by hand, she is never alone. Our local farmers are not alone either, especially not now. The strength of togetherness—samāsana—is often inside CSA boxes and it is also the essence of a CSA program: a community that supports local agriculture in the good, and in the bad.

If you have the means and can donate, there are several farmers out there that could use an extra helping hand to get back on their feet. Here's a list of some of the local farms affected by the fires. Follow the link to open their donation pages and learn their stories:

Thank you for nerding out with me. If you've already subscribed, thank you! If this email was forwarded to you and you'd like to sign up for the newsletter, click the button below:
Andrea Castillo is a food nerd who always wants to know the what's, how's, when's, and why's of the food she eats.