asparagus
Hello I'm Andrea Castillo and this is Seasonal, a newsletter that connects you to the Bay Area food system, one fruit and vegetable at a time. Seasonal comes out twice per month, and each post highlights the most interesting aspects of one seasonal fruit or vegetable grown and harvested around the Bay Area. Find me on Instagram at @seasonalbayarea or e-mail me at seasonal@substack.com to share your feedback and suggestions, I'd love to hear from you. If you'd like to unsubscribe, click the gray unsubscribe link at the bottom of this post.

This week we nerd out on Asparagus, a vegetable that demands a farmer's undivided attention and signals winter has come to an end (available February-June).
sticker shock
$8.99 per pound? My jaw dropped when I saw the price tag next to the gorgeous bundle of organic Full Belly Farm asparagus at my local Star Grocery. To buy or not to buy was the question. I always look forward to sampling what I write about. But with the current pandemic and uncertain future, this felt like a nice to have and not a must have. On the other hand, it's not just about me. It's also about supporting small businesses and farms around me. And, of course, there's Seasonal, which I want to keep writing as long as I am healthy and able. So for the sake of our farmers and this humble little newsletter, I grabbed the bundle and added it to my basket. This would be worth it. 
wash those hands 
The first thing about buying any food right now that must, must, must happen is to wash those hands! Wash them before you leave the house, wash them or sanitize them after picking up your food and wash them when you get home. The second I got home after that second-to-last food run, I washed my hands. I put the bag of groceries away, leaving asparagus last. I washed my hands again. Now I was ready to properly store the bundle to keep it as fresh as possible, since I wasn't going to be eating it that day. 
fresh goodness
Fresh asparagus is heavenly and there are three ways to get fresh spears starting with the choice to buy local or not, then the in-store/farm-stand experience, and ending with at-home care and storage. 
The odds of asparagus being fresh will definitely be in your favor if you buy the locally-grown kind. Here in the Bay, we have the choice to buy local. Many other parts of the country do not and rely on imports from other states or other countries. So, when you buy local, not only are you ensuring freshness but you're also supporting all the hard work local farms put into bringing you this bundle of joy. 
When choosing asparagus at the store or farmer's market, select firm spears and check the cut off ends: shiny cut off ends are fresh, dull and dry ones are not and were likely harvested a long time ago. Asparagus is on the Clean 15 list so, from a pesticide point of view, non-organic asparagus will not be laden with chemicals. Choosing organic versus conventional local asparagus comes down to the differences in farming practices (which, interestingly, may impact soil quality and nutrition). 
At home, storage is key to preserve the perishable spears. Store asparagus as you would fresh cut flowers: cut off a half inch from the bottom of the spears (freeze those cut off ends to make vegetable stock later) and put the asparagus bundle in a container with about an inch of water. Place a bag over the spears to lock in the moisture and put it in the fridge. If the water gets cloudy after a few days, donate that water to plants outside if you have any and add fresh water to the container. I kept the asparagus like this for four days and the asparagus spears were incredibly fresh and tasty. Once you're ready to prep the asparagus, rinse them with running water and enjoy. My default way to enjoy asparagus is broiled with grated parmesan cheese, and Food 52's paper-thin with soy sauce, Kenji Lopez-Alt's braised version, or Samin Nosrat's blanched asparagus for a spring panzanella salad all sound delightful too.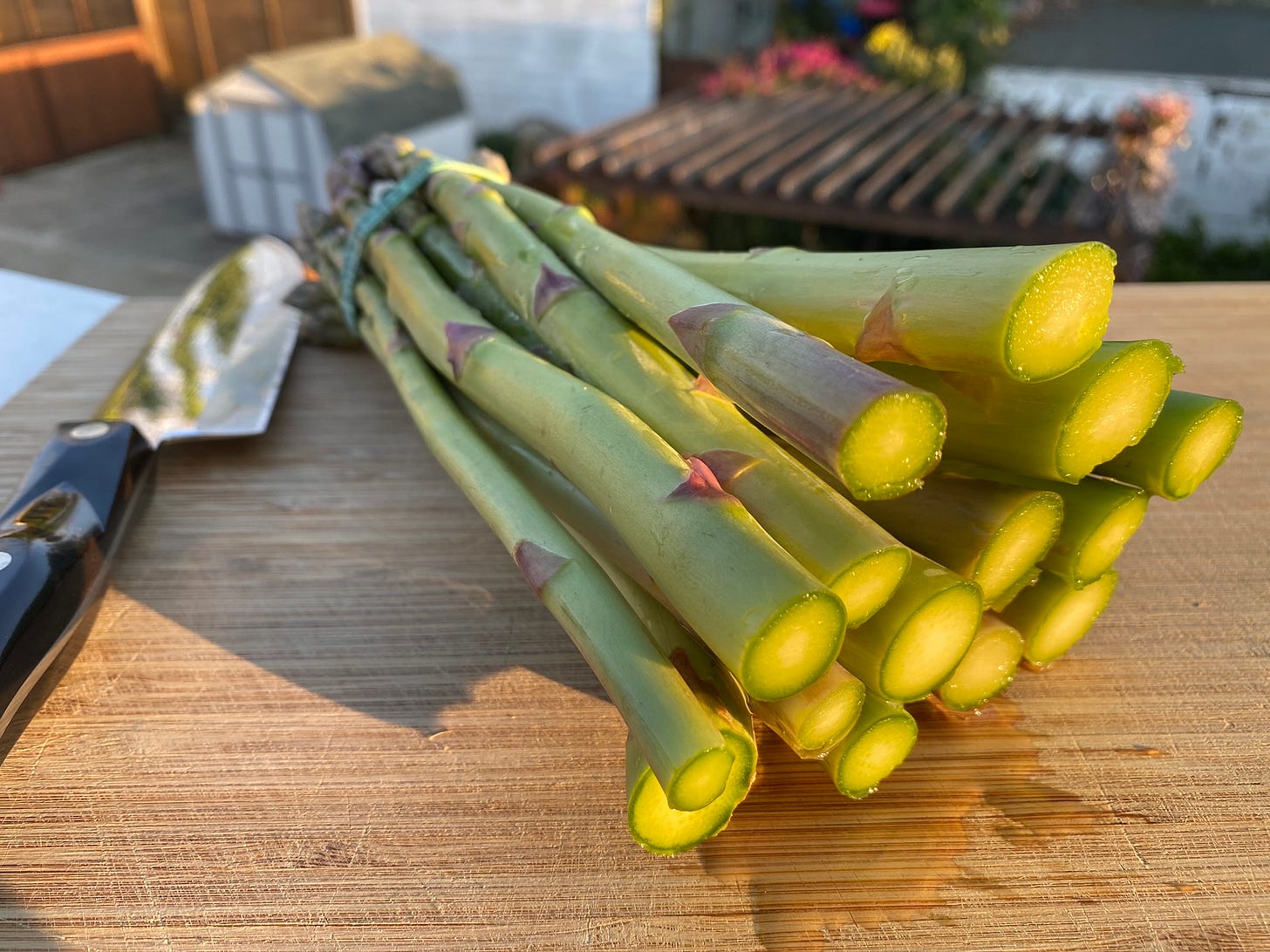 Full Belly Farms asparagus bundle, likely harvested a day or two before purchasing it.
All this fresh asparagus preparation and due diligence may sound like a bit too much. But it's easier than it sounds and is a worthwhile investment of time and effort. As David Karp describes in this New York Times article, local asparagus will probably taste better and have a nicer texture:
"Domestic asparagus, grown mostly in California, Michigan and Washington, tends to be plumper, juicier and more flavorful than the more fibrous and rubbery imports from Mexico and Peru."
But before eating that juicy, plump asparagus, it's worth learning about the incredible amount of care and attention asparagus needs from farmers, and organic farmers in particular. Learning about the patience, long hours, and heartache involved in growing and harvesting asparagus changed my eating experience, added context to that $8.99 price tag, and made me appreciate this vegetable more than ever before.
patience and dedication
Want to grow asparagus from seed? Get ready to wait a few years until you get to enjoy your first home-grown spears. Asparagus grows from roots called crowns, and these crowns need three years to yield harvestable asparagus spears. Some farmers buy asparagus crowns to shorten that time, but organic asparagus crowns are expensive and difficult to find. Whether growing from seed or from a crown, farmers must weed the areas where they plant asparagus. Asparagus crowns are not the strongest and they won't succeed when facing strong competition from weeds. With organic farming practices, farmers do not use plastic covers or any chemicals for weed control. So year-round, whether it's pre or post-harvest, organic farmers need to tend asparagus fields and manually remove the competition. For a vegetable that has a three month harvest season around the Bay Area (on average), that's a lot of work.
long hours and manual harvest
Asparagus is a little speed demon. Once an asparagus shoot decides it's time to break the surface of the soil and reach for the sun, it can grow up to 7 inches in a single day. How do these shoots know when it's time to break ground? It's all in the soil! When soil temperatures reach 50F—a sign spring is right around the corner—it's go time for those shoots. Light and heat encourage them to grow even faster. Normally, in two or three days, when the spear is 10 inches long, it's ready to be cut and eaten. But when it's nice and warm out and there's a full moon—providing even more light—there's no stopping these speed demons, which can be ready for harvest in as little as 18 hours. As an example, check out how much these asparagus in the UK grew in just a day (I don't know about you, but I find this asparagus time-lapse video + birdsong rather calming and if you right click on the video you can have it loop forever).
Once they start, asparagus don't slow down. If the shoot is not harvested in time, it will grow and grow and become woody and inedible. Since asparagus grows at such a fast rate, it is therefore imperative to harvest it the day it reaches its optimal height. As a result, asparagus must be harvested every day for two to five months, the extent of the local harvest season. As you can imagine, harvest teams work every day during harvest, sometimes for more than 12 hours per day.
As if that was not hard enough, harvesting itself is a labor-intensive process: asparagus spears have to be cut by hand with a long knife. While there are expensive machines that could harvest asparagus, it's an investment that does not always make sense. At Full Belly Farms in Capay Valley, they grow a variety of fruits and vegetables and buying expensive machinery for a single crop isn't worthwhile. Asparagus harvesting machines only really make sense for large, dedicated asparagus fields. For small farms with manual harvesting and long days, labor costs are high.
heartache and rolling with the punches
Depending on climate or economic conditions, harvest may not happen at all. At Full Belly Farms, they can have frost as late as May. If there's a surprise frost after the asparagus shoots break ground, they won't make it. Frost turns them black and at that point, they're done. Even after caring for the asparagus field and weeding for months, there may not always be an opportunity to harvest. As heartbreaking as that is, it's the reality of farming in a climate that will not always be consistent or predictable. 
In addition, asparagus farming has become even more difficult for farmers who compete with cheaper asparagus imports, which are typically shipped in from Mexico or Peru. The retail price for imported bundles can be so low that it's below the cost of growing asparagus in California. In that case, it's easier for farmers to forgo harvesting and let the plant grow so it can go to seed.
Roscoe Zuckerman, a third generation farmer from Zuckerman's Farms in Stockton, told me that over the past 15 years, the acres dedicated to growing asparagus in his area have decreased by 90%. For Roscoe, the competition is stiff and he's unsure about the future of asparagus at his farm. The added challenge of COVID-19 means even more trouble for Roscoe. With the majority of his clients—high-end restaurants and food service companies—closed for business, he's not sure how he'll sell the crops he already has on hand and isn't even considering harvesting asparagus right now. 
shelter-in-place
I asked Roscoe how individuals could help. His straightforward answer surprised me: "Just stay at home." If we all follow the shelter-in-place orders, he explained, maybe the situation will improve faster and we can get back to living normal lives. 
During these uncertain times, a seemingly hefty $8.99 price tag for organic asparagus may not be affordable, but if you are considering buying asparagus, buying locally grown spears (organic or not) will directly benefit struggling asparagus farmers around us.
Beyond asparagus, consider signing up for a local CSA, ordering no-contact take-out or delivery from local restaurants (wider Bay Area list here), or buying directly from restaurant suppliers—some are starting to reach out directly to individuals to sell perishable foods they can no longer sell to shuttered restaurants. As of this writing, farmers markets around the Bay are considered essential and exempt from the Sate of California order to stay home. If you're healthy and under 60 years old, going to the farmers market and practicing social distancing is another way to directly support our local farms.
getting help and keeping food safe
If you cannot leave home and need help with food deliveries, Berkeley Mutual Aid Network pairs volunteers with those who need assistance and this COVID-19 Shared Resources Document has similar resources for all the Bay Area. Finally, Kenji Lopez-Alt has a comprehensive food safety guide addressing coronavirus-specific questions.
p(ee).s.
After eating asparagus, some of you may notice that your urine smells… unpleasant—to put it nicely. This is a common side effect and nothing to worry about. Asparagus has asparagusic acid, a sulphur compound only found in asparagus and the likely culprit for odorizing human pee. Do you have no idea what I'm talking about? Well, it might be your genes. A 2016 Harvard study explains that, even though our bodies metabolize the asparagusic acid into smelly metabolites that we flush out when we go to the bathroom, some people just don't have the ability to smell the foul odor. Lucky them!

Thank you for nerding out with me. If you've already subscribed, thank you! If this email was forwarded to you and you'd like to sign up for the newsletter, click the button below:
Andrea Castillo is a food nerd who always wants to know the what's, how's, when's, and why's of the food she eats.